wrote:
revealing
LEDs
in a
leaks,
for a
it, in
BioStrategist
http://www.facebook.com/vasjpan2
disclaimed.}---
guards]
Bimbos]
That's right, unless something fluoresces under either IR or UV light, it won't look much different. We had similar claims made for IR theromometer being able to detect studs behind walls because the studs transmitted more heat than the insulation. Just more internet nonsense.
The only thing a cheap IR thermometer will tell you is when you are approaching a window or door. Look at any photograph of a house made with a thermal imager and you'll see that there's always significant heat leakage around windows. As for finding studs, good luck with that. I've been playing around my IR thermo since that last post and about the only thing it's good for is detecting windows and doors - which you don't need a gadget of any kind to find. I certainly wouldn't ever use it to try to decide where a stud inside the house was. Besides,
*inside*
the house, where you are most likely to want to find a stud, the temperature is equalized so no difference would be seen.
You can look at these images and see what I mean. Doors and windows stand out easily in pictures made by expensive thermal imaging cameras. Not too many studs are visible, at least from what I can see.
http://www.saniglow.com/images/thermal-resonance.jpg
http://www.creategreenhome.com/images/building_IR_House_thermogram.jpg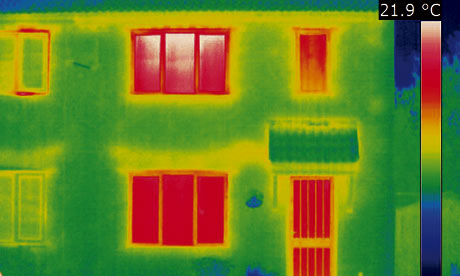 http://static.guim.co.uk/sys-images/Guardian/Pix/commercial/2009/11/4/1257350651698/Thermal-image-camera-demo-001.jpg
-- Bobby G.