On Tue, 06 Feb 2007 20:41:04 -0500, Dan wrote:

[putting in a flagstone or paver patio]

I went to an orthopedist 20 years ago, when I was 40, about back pain. He took x-rays and when they didnt' show anything abnormal, he seemed to lose interest. I had to ask questions and I asked if it was my bed. He didn't think so. My chair at work. Didn't think so. The seat of my car. HDTS. It either was caused by joggging with really cheap shoes (I was fooled by the tread that went up the back of the heel), and took 4 years to heal, or it was caused by the car seat and went away after months after I got a different car. The doctor had had no suggestions, iirc.

Congratulations.
I read that more than half of back pain can becured by exercising either the belly or the back muscles, but I can't remember which.
I think it was the opposite of what one would expect, or at least what I would expect, so I think that means the belly, like with situps. Hard work tends to exercise a lot of muscles. Do you or anyone know or have an opinion which muscles are the most important to exercise.
I hurt my back a little over two years ago**. It is still getting better. I never get twinges anymore, and I only rarely get an ache by standing too long. Part of that was losing 60 pounds, most of it in my belly, but in case I can't find a big, hard-work project to do, it would help to know whether I should concentrate on sit-ups, or find a way to exercise the opposite (assuming what I read was right. It was pretty convincing but I didn't have back pain then.)
**I kicked a 6"x6"(x4") piece of cement repeatedly to try to get it into place. Didn't even succeed, but my back starting hurting the next day. I though I was safe because I was sitting down and kicking with my leg and not using my back, but I was wrong.
The notion that backs never heal is incorrect, but it can take years.



I did seven tons of flagstone with a friend.
Then I called the landscape people to do the pavers job.
If I had it to do over again, I'd do the pavers where the flagstone is, and let the laborers do it.
Steve

posted on February 7, 2007, 5:44 pm

It's stomach muscles. Or, more precisely, it's the other support muscles that you work, when working on your stomach muscles.
But don't just start doing situps, or you're likely to make matters worse. Bail on the orthopedidist, and find a physical therapist who will help you set up a set of exercises, and show you how to do them properly. Especially if you've already had an injury. Even if you have to pay for it out of pocket.
--Goedjn

posted on February 7, 2007, 11:48 pm

Good advice. I have a friend who raves about a particular physical therapist. I'll find out the name.
But while you are here, that brings up another question. Whenever i see people do exercises on tv, they are always puny exerises these days. Sit-ups where they never go down all the way to the floor, OR, they never go up from the floor more than a little bit. Push-ups where they keep their knees on the floor.
Are these exercises for people so far out of shape that they can't do a real sit-up or push-up, ala the 1960's, OR have experts actually decided that this style is safer, and that the "traditional" style was more likely to cause injuries?


posted on February 7, 2007, 2:42 am

How much is your time worth?
What you want to do is not rocket surgery. Take out the dirt, fill with appropriate sand, compact and make it to grade, and slam in the pavers. How hard can it be?
It is not hard mentally. It is hard physically.
I just had about 600 sf done at my house. They were ghosts. In, out, gone. They had so many tricks. They made it look easy. Yet, there were eight laborers running around, all knowing what to do. They were here a few days, bing, bang, boom............. and then they were gone.
If you want to drag something out for three months and do it yourself, that's up to you. But, when you figure how many hours you will take to do it, and multiply that by what you think you're worth, it's cheaper to get a pro to do it.
Unless you are young and full of strength and energy. But, when you figure the hours and your rate per hour, you'll see it ain't no bargain. Yes, you have no labor cost outlay, but what are you worth.
I commonly make $50 to $200 per hour or more for what I do when I choose to work.
Why would I want to do that hard stuff when I can hire someone and pay them $10 an hour to do it?
You have to do your own math.
Steve

posted on February 7, 2007, 5:00 am
You can do it in a few weekends with a helper, most stages it can be left with no trouble, but you will work hard, moving dirt, sand, stone and pavers is a lot harder than it seems at first glance. But as long as your healthy and don't mind getting a good workout, and you can follow some simple directions which you find online or in a book, a nice patio is definitely a good home owner project. Once it's done you WILL enjoy it all the more for having done it yourself.
I'm happy with the deck and patio I built last year... you can see them here if your curious, when I started this was just grass and a 30 inch normal door from the kitchen with a set of iron stairs leading down to the yard. http://photo.mike721.com/gallery/patiodeck I used some really large simulated slate pavers ( 18 inches), they are unusual and I never have seen them other than in the store I bought them from but I really liked them so I went with it, and I'm glad I did. The combined project did take quite a few weekends, I forget how many, but it was well worth it.
--

Mike S.


"Jake" < snipped-for-privacy@gmail.com> wrote in message

Click to see the full signature.
posted on February 7, 2007, 10:58 am
Jake wrote:
I just did this:
http://www.bunchobikes.com/pond166.jpg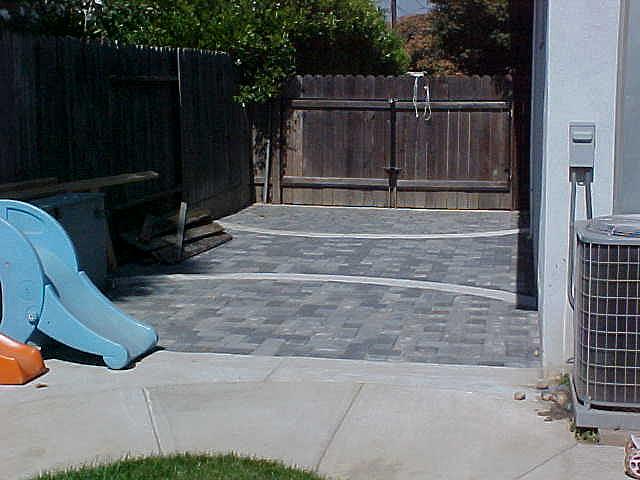 http://www.bunchobikes.com/pond167.jpg
I have a 13' x 60' area planned by the end of summer. All done by me. The kids didn't even help!! Pick, shovel, wheel barrel and a pair of gloves.
Take your time. The only rush I had was to get the rental compactor back to the store.
I think that I estimated that doing cement myself would have been cheaper, but that was too back breaking and I had no one to help. So the slightly extra cost of the pavers was worth it.
My procedure, less the cement work, was to dig down 7". Lay 4" of Class II base. Compact. Screed a layer of paver sand ( high.) Set pavers. Compact. Cover pavers with sand. Compact. Sweep off sand. Enjoy look of new paver driveway!
posted on February 7, 2007, 2:16 pm

If you haven't done this before, I personally wouldn't start with this big of a project. One aspect that has already been mentioned is the large volume of materials that needs to be moved, leveled, removed, etc. Maybe more importantly, is the experience factor. It's been pointed out that this isn't rocket science, which is true. But, on any job I've done, I know I could do it better, faster, etc the second or third time. Experience does help in how things come out. And there is a lot we don't know. For example, doing a simple square area, with no constraints is one thing. Having to cut pavers to fit around or joining various existing surfaces, like walkways, pool deck, etc, is another.
If you decide to DIY, maybe there is a smaller sub area you could start with, that is less critical. And if you get it done professionally, make sure you see some of their existing work and check references.

posted on February 7, 2007, 3:54 pm

You can do it yourself! I think you will feel better about when finished if you do it yourself.

Absolutely two people could do it in 2 - 3 weekends (excluding excavation.) Parts of the job need to be finished quickly once started: Base rock should be delivered and spread out before getting rained on. The base layer of sand should not be disturbed once you start leveling it for pavers.

You will save money if you do it yourself. It really depends if you are the DIY type or not. If you hire someone to do it be sure to get referrals. If seen some crappy paver jobs: uneven patios, weeds growing betwen pavers, etc.
Most of your time will be prepping the area... excavation, etc. Do you need to run drainage or conduit under the patio?
If you do it right you will be very satisfied with your patio. Do it wrong and you'll hate it. Here are the step to doing a good job: - Excavate - Usually 7-8" - Use about 4 inches (after compacted) of base rock (3/4-) - this is your foundation and allows drainage - Install borders at unbordered edges - Use about 1 inch of leveled sand - 1" PVC pipes and a 2x4 works well - Set pavers - Spread masons sand or equivilent - Compact pavers - this locks them in place and evens out everything. - Seal pavers and joints - usually expensive, but a quality sealer will keep the weeds away.
Here's a link to my backyard paver project: http://www.sonic.net/~mpaul/backyard /

posted on February 7, 2007, 6:31 pm
So a good compromise would be to hire a contractor to do the digging (since I have nowhere to put the dirt) and then attempt the rest myself?


posted on February 7, 2007, 7:10 pm

Does your town have a section for day laborers? Many of them are experienced in landscaping, and might be highly experienced at the job.
The only thing I noticed that was even slightly technical was the placing of the lines to get the final sand to grade. They drove stakes, stretched lines, put in the dirt, and compacted it until it came to the strings. Not difficult, but I wouldn't have come up with the idea.
And while you have them there, have them slam in the pavers, too.
But, GET THE SAND AND GRADES RIGHT! That's exactly what you will see when the pavers go down, and you'll see every bump and swale.
Steve

posted on February 7, 2007, 7:45 pm
M.Paul wrote:

Nice job! Here was mine, beginning to end: http://www.bunchobikes.com/pond.htm

posted on February 9, 2007, 7:24 am

Wow!!! You too. Good stuff.

posted on February 7, 2007, 5:18 pm

Some of the very best times of my life were when I took on some home improvement chores with my spouse. One of which was replacing the patio.