On Sun, 20 Apr 2014 11:05:28 -0700, RosemontCrest
I should mention that you can also do it wrong without the electrical tape:
<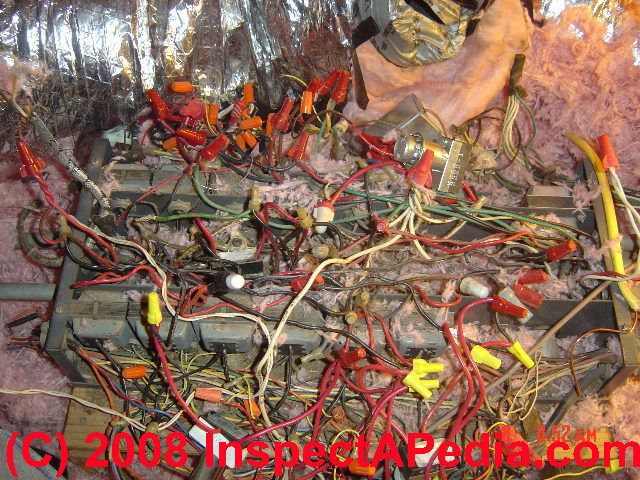 http://inspectapedia.com/electric/LowVoltageGERelayBox020DFs.jpg
<http://inspectapedia.com/electric/Electrical_Inspector_Safety.htm
Hint: If you have an IR thermometer, use it to measure the temperature of your circuit breakers. I had a problem at a rental that I found that way. The breaker looked ok, but it wasn't. I've also used an IR thermometer to test the integrity of low voltage high current solar panel wiring and battery banks:
<
https://www.youtube.com/watch?v=SBAZ2UPheGQ
>I'll see that and raise this:
That's pretty bad. The #16awg(?) extension cord at the end is the best part. Looking at the garage, I would guess that it's new construction, probably added without the benefit of a building permit.
Many more of the same:
<https://www.google.com/search?tbm=isch&q ēd+electrical+wiring>
Perhaps we have an epidemic of bad wiring?
Why the OP expected to find advice on electrical wiring in two electronics newsgroups will remain a mystery.
--
Jeff Liebermann snipped-for-privacy@cruzio.com
150 Felker St #D http://www.LearnByDestroying.com

Click to see the full signature.