On Thu, 03 Aug 2006 15:52:22 -0500, Richard J Kinch

All depends on where "here" is. they run local distribution to the poles behind your house in various areas at 2.4KV (rare anymore) 4.8KV, 9.6KV, 13KV, 15KV, 34.5KV...
And long distance can be all the way up to the 2-wire 1000KV DC Pacific Intertie - one line at +500KV DC, the other at -500KV DC to ground. Normally, DC isn't good for long distances, but boosted that high it works. And better yet, the transmission systems at either end don't have to be at the exact same frequency, because the converter stations sync up with the local AC frequency lock.
But back to the original subject - Igor, you can't get hurt with the 24V from the furnace to the contactor - there's a 40VA to 60VA transformer inside the furnace, and when the current goes up past what the transformer can supply the voltage drops off. (Till the fuse in the transformer pops, then you get nothing.)
There's a reason they call it "Class 2 Current Limited" wiring, and you don't need to worry about silly things like conduit and boxes.
Now the 240 VAC from the breaker, THAT can hurt ya.
--<< Bruce >>--

It is quite obviously not very relevant, but there is very solid 24 VAC as input to the contactor's coil.
One pair of contacts (across the contactor) measures 0 ohm. Another pair, strangely, measures infinity, which is quite strange as the contactor ought to be closed for a power fault like this to occur (barring some very strange troubles). I left the outside unit due to the rain that resumed, will come back there soon.
I am not used to seeing such strange contactors, all contactors that I dealt with, to date, were three pole contactors for 3 phase motors.
Also, can someone explain me why the capacitor has three sets of terminals. What is the purpose of the third terminal. Thanks.
i
On Thu, 03 Aug 2006 02:37:39 GMT, Ignoramus2645


posted on August 3, 2006, 3:09 am
Well, the contactor's apparently bad. Start there. Been there, done that. Respectfully, Ron Moore
wrote:


posted on August 3, 2006, 3:13 am

Hi Ron.
I think that I was wrong. The contactor is OK. I must have mismeasured something. It has zero ohms across bost pairs of contacts.
I am going to post a little update, it is a little more apparent to me -- see my separate post.
i


posted on August 3, 2006, 4:11 am
Ignoramus2645 writes:

Two capacitors, in one can, with a common terminal.

posted on August 3, 2006, 4:28 am
Yes, that's right. You got it 100%. Here's the schematic: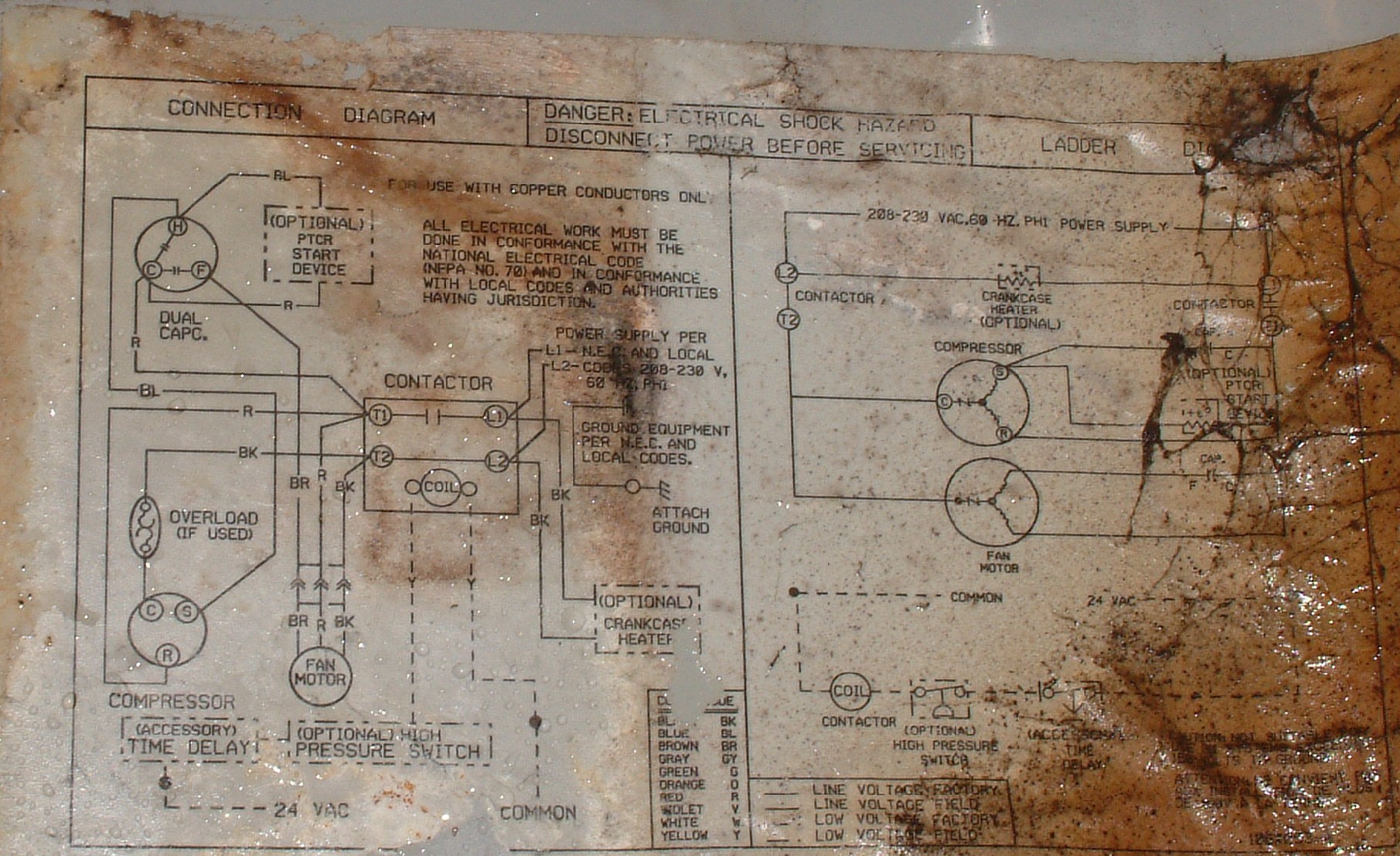 http://igor.chudov.com/tmp/AC-Compressor/diagram.jpg
i
posted on August 3, 2006, 4:01 am
This is symptomatic of a bad compressor. Try testing the motor leads for a dead short (to each other and ground). There are start and run leads. You may need a HVAC guy to replace your compressor and recharge the system.
Tony


posted on August 3, 2006, 3:57 am

Good idea, I will check motor leads for leaks to ground. (the main motor leads should read a very low resistance to one another).
i


posted on August 3, 2006, 4:07 am

Um, no, that could not be the case. If I disconnect the cap's fat blue lead and let the cap hang in the air, the breaker does not blow, the blower runs, and the compressor hums (I am sure that it does not run).
It is very likely the cap.
i


posted on August 3, 2006, 8:46 pm
most likely you will need a new compressor from DIDO


posted on August 3, 2006, 9:13 pm

Yep, that is indeed the case. I will get a whole new system.
i