A volunteer just appeared in the garden, so it must be something winter hardy, or it would've appeared earlier than September. Though very, very tiny so far (one-inch leaves & smaller), they should be easy to recognize even just by the young leaves, which are quite unique double-lobed things. Nothing like them has ever popped up in the garden before that I can recall.
An inch tall at this point, they are golden yellow leaves on short stems poking staight up from the ground. They're growing in an area that was not watered during summer but is damp now with rain season started. I'm MOSTLY certain I never planted anything there, as it is a spot that was built up with quite a big percentage of unfinished compost & not ready for plants until next spring.
http://www.paghat.com/images/cooldoubleleafthing_sept.jpg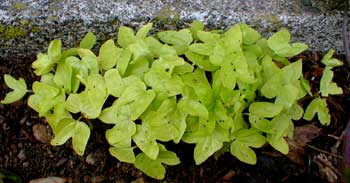 http://www.paghat.com/images/cooldoubleleaf_sept.jpg
-paghat the ratgirl
--
"Of what are you afraid, my child?" inquired the kindly teacher.
"Oh, sir! The flowers, they are wild," replied the timid creature.

Click to see the full signature.