Similar thing happened to me - spent an entire weekend (literally) with a power drill and wire-brush attachments removing the paint from a cast iron fireplace and buffed it back to its original condition. As the fireplace was leant up against my wall outside with me supping tea admiring it a sudden freak gust of wind came from nowhere and blew the bloody thing over! Oh how I laughed...
Of course it whacked down on a sticking-out bit and put some pretty severe cracks in it. The legs didn't snap off but it was close.
Absolutely fretting I looked round for what might work and gave 'Chemical Metal' a go:
http://www.screwfix.com/app/sfd/cat/pro.jsp?&id#269
Superb stuff - does exactly what it says on the ..err.. tube. Easy to work with, sticky as anything, and as hard as nails once cured. The fireplace in my case was purely for decorative purposes and so I also 'glued' some battens along the backside of the legs for extra strength. Did the job perfect.
Incidentally, if it's of any interest, following the repair I buffed the entire lot with a Zebo-equivalent (www.realpaints.com made some 'isinglas with graphite' for me with no black pigment added - I wanted a greyish finish) and it came up rather nice.
http://www.newtonnet.co.uk/house/20050417 /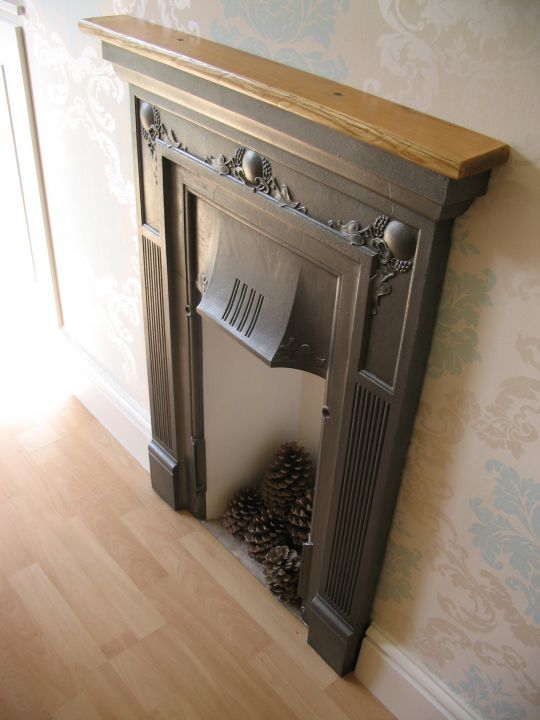 http://www.newtonnet.co.uk/house/20060806/slides/IMG_4803.jpg
Mathew
Mathew Newton wrote:

yes, chemical metal, possibly in conjunction with glass fibre cloth an/or some perforated sheet will hold stuff like that together. A visit to Halfords will net you what you need.

posted on March 6, 2007, 12:49 pm
wrote:
Thank for the advise, I'll follow it when I get the repaired done
The picture of the fireplace
http://i18.tinypic.com/49khszp.jpg
Jan
posted on March 6, 2007, 12:55 pm

Presumably before shipping...? ;-)
If there are any chunks missing you'll find Chemical Metal will also serve to fill those in - put some sheeting behind the gap, fill it proud, and grind/sand down to a flush finish. It's dark metal in colour hence will be nicely disguised even with only a modest covering/ finish.
Mathew

posted on March 7, 2007, 9:49 pm
Gust of wind? - bet the cat did it!